LASER ENGRAVED EXCELLENCE: Elevate your brand with our premium insulated mugs professionally engraved with your company logo. Unlike printed alternatives, our tabletop mugs leave a lasting impression in the corporate world.
PREMIUM QUALITY STEEL: Real Deal Steel exclusively employs top-tier materials—100% BPA Free 304, 18/8 steel—eliminating any odors or low-quality compromises found in cheaper alternatives.
EXTENDED DRINK FRESHNESS: Our vacuum-insulated design ensures drinks stay refreshingly cold for an extended period.
UNPARALLELED DESIGN: Real Deal Steel offers a distinctive, one-of-a-kind mug design, setting your brand apart.
ECO-FRIENDLY PRACTICE: Embrace sustainability! Bid farewell to plastic cups and opt for our clean, sterile, stainless steel mugs, ideal for corporate settings and events.
Starting at $13.85 each with reasonable shipping for orders of just 10 pieces. No hidden costs or misleading shipping charges.
Planning a big order? Reach out to us at hello@keepitrealdealsteel.com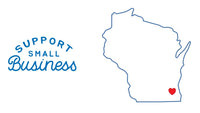 Community Cornerstones
Supporting small businesses is vital as they are the backbone of local economies, fostering innovation, creating job opportunities, and contributing to the uniqueness and diversity of communities. When you support small businesses, you directly help real people, families, and entrepreneurs thrive, creating a ripple effect that benefits the overall community.
The Real Deal
Businesses trust Real Deal Steel for promotional drinkware because of our unwavering dedication to authenticity, quality, and excellence. With years of experience and a commitment to crafting drinkware that's not just 'real' but 'the real deal,' we ensure that every piece serves as a genuine representation of their brand, offering unique, high-quality products that stand out in the market and resonate with their audience.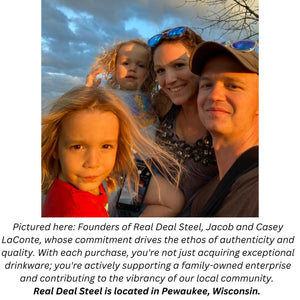 MORE CUSTOMIZABLE PRODUCTS