FOOD GRADE STEEL: While some stainless steel drinkware is made from cheap smelly steel, Real Deal Steel uses only the premium stuff - 100% BPA Free 304, 18/8 steel. 

VACUUM INSULATED: Keeps drinks cold for a very long time. 
UNIQUE: One-of-a-kind design by Real Deal Steel
LASER ENGRAVED, NOT PRINTED: Screen printed cups will peel off over time. Laser engraving looks high quality and will never wear off. 
ENVIRONMENTAL FRIENDLY, YES!: Death to the plastic cup! Practice sustainability at your company or your event. Use clean, sterile, stainless steel whenever possible.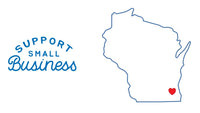 Community Cornerstones
Supporting small businesses is vital as they are the backbone of local economies, fostering innovation, creating job opportunities, and contributing to the uniqueness and diversity of communities. When you support small businesses, you directly help real people, families, and entrepreneurs thrive, creating a ripple effect that benefits the overall community.
The Real Deal
Businesses trust Real Deal Steel for promotional drinkware because of our unwavering dedication to authenticity, quality, and excellence. With years of experience and a commitment to crafting drinkware that's not just 'real' but 'the real deal,' we ensure that every piece serves as a genuine representation of their brand, offering unique, high-quality products that stand out in the market and resonate with their audience.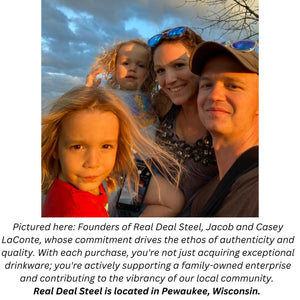 MORE CUSTOMIZABLE PRODUCTS