BPA FREE: We didn't stop at just the stainless steel bottle. We made all the parts BPA Free, so you don't have to worry nasty bits tainting your experience.

DISHWASHER SAFE:
RDS kids bottles
rinse out easily, but feel free to throw them right in the dishwasher! 
VACUUM INSULATED WITH STRAW: Keep water cold for hours with our 12 oz kids bottle. We equip our bottles with a straw and straw cleaner so you have a total package.
Free shipping domestic orders over $50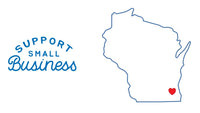 Community Cornerstones
Supporting small businesses is vital as they are the backbone of local economies, fostering innovation, creating job opportunities, and contributing to the uniqueness and diversity of communities. When you support small businesses, you directly help real people, families, and entrepreneurs thrive, creating a ripple effect that benefits the overall community.
The Real Deal
Businesses trust Real Deal Steel for promotional drinkware because of our unwavering dedication to authenticity, quality, and excellence. With years of experience and a commitment to crafting drinkware that's not just 'real' but 'the real deal,' we ensure that every piece serves as a genuine representation of their brand, offering unique, high-quality products that stand out in the market and resonate with their audience.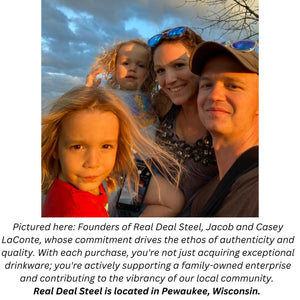 MORE CUSTOMIZABLE PRODUCTS